LED Indirect Lighting

68% Energy Reduction

Replace 1000-w Halides 1-for1

Dimmable Individual Court Management

Outdoor LED Tennis Lighting

68% Energy Reduction

LED Direct Indirect 4752-watts

Glare Free Whole Room Illumination

Combining Direct and Indirect Lighting

88 Footcandle Average

LED Indirect Lighting

Designed for Air Structures

Performance

Efficient

Affordable LED Court Lighting

The New WIlliams Sisters Tennis Center

John McEnroe Tennis Academy

Don't Just Watch Sports in HD

Play Sports in HD

Gonzaga University Indoor Tennis

Private and Commercial Single Court Designs
600+ Indoor and Outdoor Tennis/Pickleball Lighting projects designed
LED Tennis & Pickleball Lighting  – Made in USA
Brite Court is North America's leading LED tennis and Pickleball lighting provider with next level made in America technology while maintaining affordable cost by shipping manufacture direct to you. With 22+ years of tennis, Pickleball, and sports lighting experience from club Level to NCAA/professional facilities. Our team has designed and provided lighting for more than 600 Tennis and Pickleball projects. No other company offers more choices for indoor and outdoor tennis and pickleball lighting. Unlike others that simply sell low cost imported LED lights not designed for racquet/paddle sports, we are actually hands on in the design our fixtures from the ground up and specifically for the sport. Because racquet sports facilities and their lighting needs can vary we offer a multitude of lighting solutions. 
Introducing Picklelight D/I the first and only Tri-Directional Pickleball Direct/Indirect LED lighting system. Direct/Indirect lighting is the #1 choice of USA Pickleball and the ASBA. Picklelight Direct/Indirect was designed and engineered exclusively for indoor Pickleball delivering unprecedented non-glare illumination with our proprietary 3 angle 180-degree distribution that simply illuminates every cubic foot of the court, floor to ceiling and wall to wall. No direct light shadows and glare like down lighting, no cloudy day effect like indirect, this combination truly combines and delivers the best of both worlds. Designed to provide profession quality illumination, enhancing visibility of ball spin, better depth perception, ball speed and trajectory, yours and your customers game well definitely be elevated with this next level LED pickleball Lighting system.
Below are a few recent projects (Click on Image to enlarge or play Video)
Featured Project – click image to see 360-view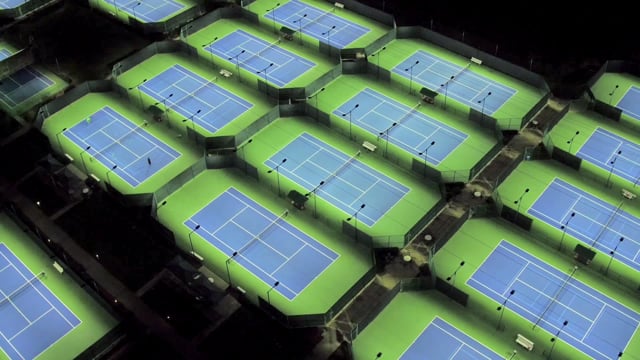 LED Outdoor Tennis Lighting
Existing tennis lights at this 23 court club consisted of 184 1000-w M/H. Installing our 434-w BC-BLX outdoor LED tennis lighting resulting in a 60% energy reduction while delivering incredible light levels and uniformity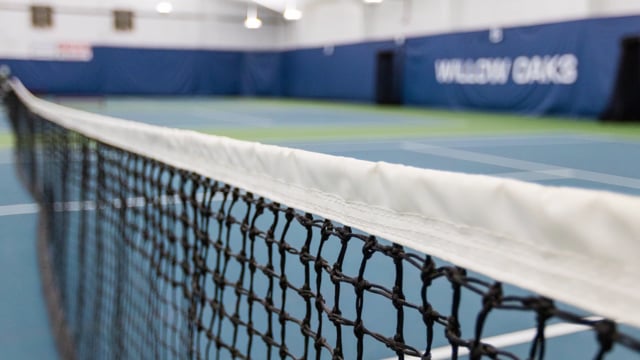 LED Indirect Tennis Lighting
Previous tennis lighting consisted of 48 1000-watt indirect M/H per court (12,960 watts per court). Replacing one for one with Brite Court HEX LED Indirect tennis lighting provided a 68% energy reduction with improved light quality.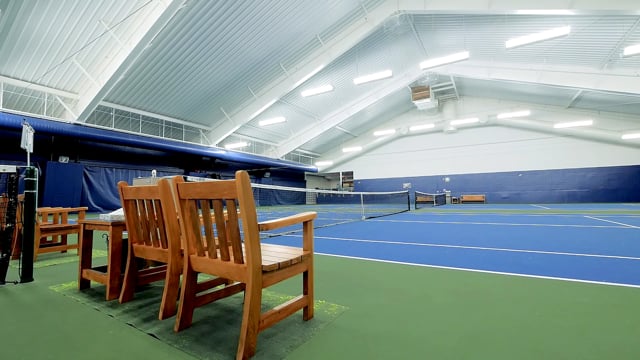 LED Direct – Indirect
lighting consisted of 48 1000-watt M/H per court. They replaced the aging M/H with Brite Court LED Direct Indirect tennis lighting system at 4752 watts per court resulting in a  64% reduction while nearly doubling their light levels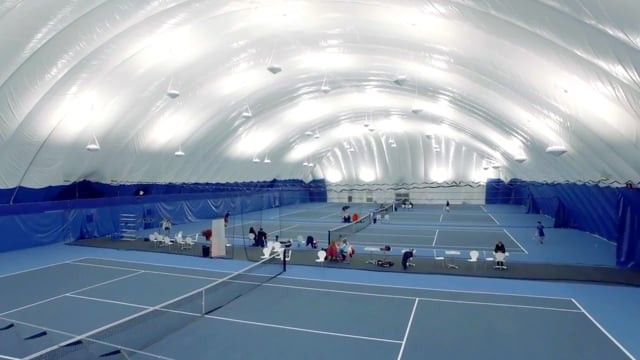 LED  Indirect – Air Domes
This new 6 court Air-Dome was one of five sports domes this club has, they chose to install the Brite Court LED HEX Indirect tennis lights, The also replaced 1000w and 1500w M/H  lighintg in their other bubbles with the 350-w HEX LED
LED Sports and Tennis lighting is here!!!
All our LED fixtures are designed and engineered for each specific sport environment, enhanced to deliver performance and more importantly provide quality lighting with glare reduction (common in other LED's).
Direct-Indirect LED Tennis-Pickleball lighting: This has become the most popular indoor racquet sports lighting choice. This system provides a mix of both indirect and direct lighting which also offers individual court lighting management. Direct-Indirect Pickleball-Tennis lighting overcomes the glare issues with a soft diffused light horizontally aimed light source
Indirect LED Tennis-Pickleball lighting: Our LED HEX indirect fixture is the most installed indirect fixture in both Tennis and Pickleball facilities in North america.  Indirect LED pickleball-tennis fixtures were engineered from the ground up exclusively as a Indirect LED, ensuring proper heat dissipation, performance and reliability…
Call for Quote (800) 330-0828 or Email Us 
Pickleball lighting for outdoor and indoor courts.
Brite Court offers affordable state of the art, energy-efficient outdoor and indoor lighting designed specifically for pickleball courts. We are the only company in North America that not only provides all three lighting options outlined by USAP (USA Pickleball), but all our indoor LED lighting for pickleball was designed from the ground up specifically for pickleball and racquet/paddle sports. We do NOT simply reinvent warehouse lighting like the competition. 
You need to be careful, to many lighting suppliers have little experience in this genre of lighting. The team at Brite Court has more than 40 years of Racquet and Paddle sports lighting experience. We do not just sell lighting we are also hands on in the design of our luminaires and take pride that we offer the best racquet/paddle sports lighting available today. Lighting being one of the most critical components of any pickleball, or any sports venue, you can trust we offer the experience, reputation and superior products to make your facility the best illuminated playing experience anywhere. With more than 600 Pickleball, Racquetball, Squash, and Tennis facilities illuminated with our products no other lighting supplier has a resume as robust as Brite Court.
New Technology Sports and Tennis Lighting
Offering the latest in sports and tennis lighting technologies including LED indoor and outdoor tennis lighting options. With More than 18 different fixtures specifically designed for tennis and pickleball. In addition to tennis lights we also offer solutions for Racquetball, Pools, Squash, Gym, Ice Rinks, and more.
Pictured here is a great example of the performance of our outdoor LED systems. On the top of this picture is a court with 8 1000-watt Metal Halides 8,640 watts per court, right of that is our BC-BLX 434-watt Tennis lighting at 3472 watts per court resulting in a 60% energy reduction and significant increase in lighting quality and uniformity.
Our Specialties
Outdoor LED Tennis Lighting
LED Indirect  Indoor Tennis Lighting
Direct-Indirect Tennis LED Lighting
More LED Sports Lighting
Contact us for a no cost lighting quote today

email

or
call 800 330-0828