LED Indirect Lighting

68% Energy Reduction

Replace 1000-w Halides 1-for1

Dimmable Individual Court Management

Outdoor LED Tennis Lighting

68% Energy Reduction

LED Direct Indirect 4752-watts

Glare Free Whole Room Illumination

Combining Direct and Indirect Lighting

88 Footcandle Average

LED Indirect Lighting

Designed for Air Structures

Performance

Efficient

Affordable LED Court Lighting

The New WIlliams Sisters Tennis Center

John McEnroe Tennis Academy

Don't Just Watch Sports in HD

Play Sports in HD

Gonzaga University Indoor Tennis

Private and Commercial Single Court Designs
500+ Indoor and Outdoor Tennis/Pickleball Lighting projects designed
LED Tennis & Pickleball Lighting  – Made in USA
Brite Court is North America's leading LED tennis lighting provider with made in America quality while maintaining affordable cost by shipping manufacture direct to you. With 25+ years of tennis and sports lighting experience from club Level to NCAA/professional we have the experience. Our team has designed and provided lighting for nearly 600 Tennis and Pickleball projects. No other company offers more choices for indoor and outdoor tennis lighting. Unlike others that simply sell low cost imported LED lights not designed for racquet sports,  we actually design our fixtures from the ground up specifically for the sport. Because racquet sports facilities and their lighting needs vary for indoor alone we have 6 different LED options and 4 different outdoor LED options.
LED Panel Indoor Tennis  
Below are a few recent projects (Click on Image to enlarge or play Video)
Featured Project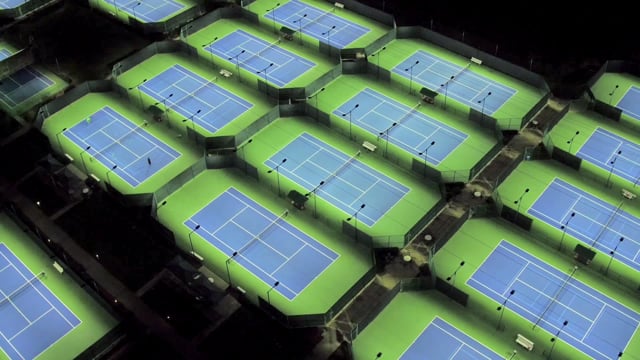 LED Outdoor Tennis Lighting
Existing tennis lights at this 23 court club consisted of 184 1000-w M/H. Installing our 434-w BC-BLX outdoor LED tennis lighting resulting in a 60% energy reduction while delivering incredible light levels and uniformity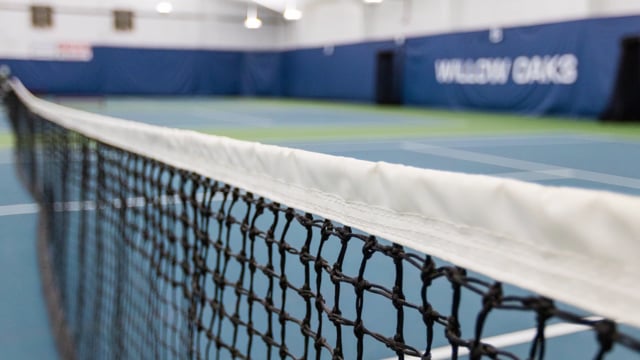 LED Indirect Tennis Lighting
Previous tennis lighting consisted of 48 1000-watt indirect M/H per court (12,960 watts per court). Replacing one for one with Brite Court HEX LED Indirect tennis lighting provided a 68% energy reduction with improved light quality.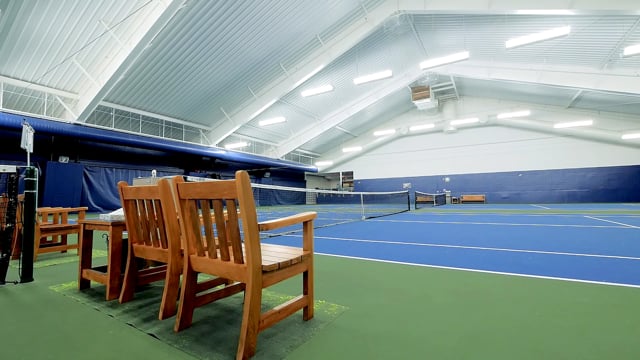 LED Direct – Indirect
Existing  lighting consisted of 48 1000-watt M/H per court. They replaced the aging M/H with Brite Court LED Direct Indirect tennis lighting system at 4752 watts per court resulting in a  64% reduction while nearly doubling their light levels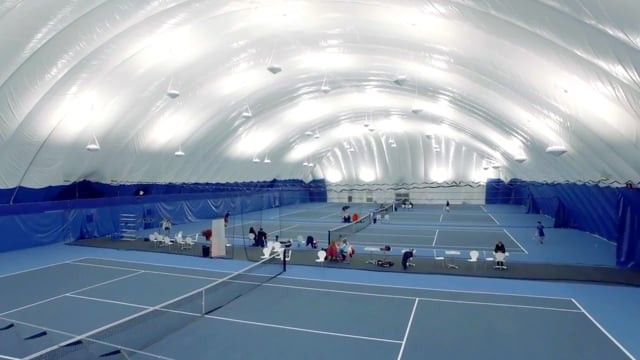 LED  Indirect – Air Domes
This new 6 court Air-Dome was one of three sports domes this club has, they chose to install the Brite Court LED HEX Indirect tennis lights, The also replaced 1000w and 1500w M/H  lighintg in their other bubbles with the 350-w HEX LED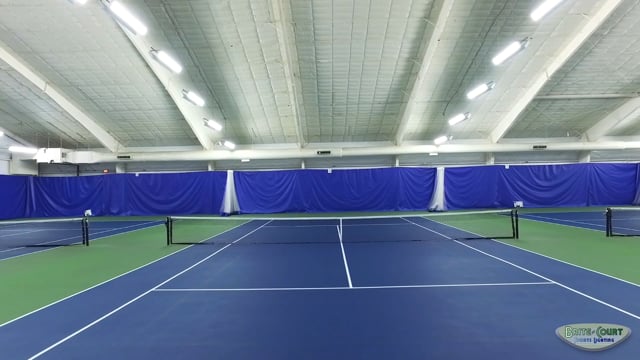 LED Direct-Indirect
Members of OPRC were ready to move to the next gen. of LED sports lighting. They chose our LED Direct-Indirect system. With 35%-40% of the lighting indirect, this provides the best of both worlds, while doubling their light levels and reducing energy cost.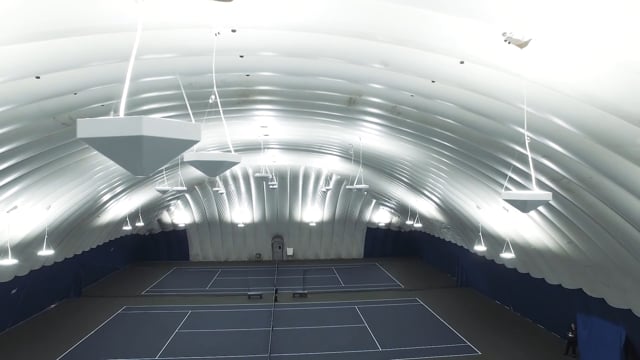 LED Indirect Lighting
Ontario RC had two tennis domes with 1000-w M/H, after seeing our LED HEX indirect Tennis fixtures at other bubbles in the area they too jumped at the opportunity to reduce their energy and improve the lighting. This project yielded a 68% energy reduction.
LED Direct – Indirect
The Prestigious Washington Golf and Country Club was looking to reduce the lighting cost & improve lighting on their 6 outdoor courts. They replaced their  1000 -watt M/H with  LED BC-BLX with significant light level increase and energy savings .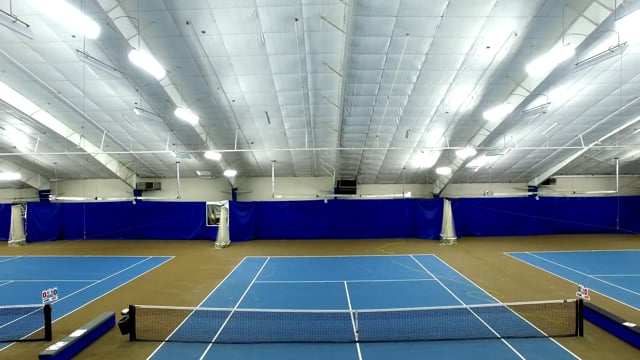 LED Direct-Indirect
Columbia Basin RC 4 Court tennis area had 14 1000-w M/H per court. They chose to replace with our LED Direct-Indirect system at 4572-watts per court, providing a 69% energy reduction and a major increase in light levels and Uniformity
LED Sports and Tennis lighting is here!!!
All our LED fixtures are designed and engineered for each specific sport environment, enhanced to deliver performance and more importantly provide quality lighting with glare reduction (common in other LED's).
Our outdoor sports court and  tennis-pickleball lighting fixtures provides a significant forwards throw with a wide beam angle delivering most of the light on the court and NOT the surrounding area. With light pollution concerns these days we can eliminate that concern with Dark Sky compliant Outdoor Pickleball Tennis and Sports Lighting.

Indirect LED Tennis-Pickleball lighting: Our LED Indirect up-lighting is the most diverse of any company. There is NO one fixture fits all solution so we have designed four different Indirect LED fixture.  Indirect LED pickleball-tennis fixtures were engineered from the ground up as a Indirect LED ensuring proper heat dissipation, performance and reliability…

Direct-Indirect LED Tennis-Pickleball lighting:

 This has become the most popular indoor racquet sports lighting choice , This system provide a mix of both indirect and Direct lighting  which also offers individual court lighting management that straight  indirect cannot. The main downfall to direct LED in sports environment is GLARE! Direct-Indirect Pickleball-Tennis lighting overcomes the glare issues with a soft diffused light, delivering the most energy efficient tennis lighting design available today.

LED Panel Tennis Lighting:

This system uses 72-80 2'x4′ 60-80-watt LED panels suspended at the ceiling providing a feeling as if skylights were illuminating the courts. Our panels and suspensions systems are All US made, we will not sell any imported LED panels for tennis lighting like our competitors. All our Tennis lighting is made in the USA.  Direct LED Panel Tennis Lighting
Call for Quote (800) 330-0828 or Email Us 
LED Tennis-Pickleball lighting for outdoor and indoor courts.
 Brite Court offers affordable state of the art, energy-efficient outdoor and indoor lighting for tennis, pickleball and sports applications, featuring both indirect lighting and direct/indirect lighting solutions for indoor courts as well as leading edge LED lighting for outdoor tennis and Pickleball. Whether you are planning a new court construction project, need to increase your current light quality, or are looking for ways to reduce your energy cost, implementing Brite Court's  LED picleball or tennis lights should be on your short list of capital improvements.
Brite Court offers the most energy efficient fixtures designed especially for outdoor and indoor courts. Our indoor sports lighting systems will save you money, our customers typically save between 40-70% in energy costs while delivering higher light quality.
New Technology Sports and Tennis Lighting
We offer the latest in sports and tennis lighting fixture technologies including LED indoor and outdoor tennis lighting options. With More than 18 different fixtures specifically designed for tennis lighting no one offers a more diverse lineup of  tennis and sports lighting solutions than us. In addition to tennis lights we also offer solutions for your Racquetball lighting, Pool lighting, Squash court lighting, Gym lighting, Parking lot lighting and office and locker rooms.
Pictured here is a great example of the performance of our LED systems, on the left of this picture is a court with 8 1000-watt Metal Halides 8,640 watts per court, right of that is our BC-BLX 434-watt Tennis lighting at 3472 watts per court resulting in a 60% energy reduction and significant increase in lighting quality.
Brite Court Rated Lamp Life
Based on 16 Hours per day
Standard T5 40,000 hours or 6.8 years
LED Tubes 50,000 hours or 8.5 years
Brite Court LED 100,000 hours or 17.1 years
Our Specialties
Outdoor LED Tennis Lighting
LED Indirect  Indoor Tennis Lighting
Direct-Indirect Tennis LED Lighting
More LED Sports Lighting
Contact us for a no cost lighting quote today

email

or
call 800 330-0828